Kevin Thomas Sullivan's Personal Page
On the Net and working with Minnesota's Internet community since 1993
Why gartland.com? It's an old family name (even years ago sullivan.com was taken), my great grandmother's maiden name, and also the name of the now defunct Steamship Company that was founded by her husband, Denis Sullivan. I would love to do a Gartland Steamship Company history site, if anyone worked at Gartland, or has good information about the company, please get in touch with me.

I have been in the computer business since 1981. After downloading and trying one of the first public copies of NCSA Mosaic, apparently many others, and I jumped on the Internet bandwagon around 1993.

I can be reached at kevin@gartland.com.
---
The Denis Sullivan:
Due to the wonderful efforts of my Uncle, Milwaukee's Jere Sullivan, the Wisconsin Lake Schooner Education Association has announced that their new traditional Great Lakes schooner will be named after my great grandfather, Denis Sullivan. Here's a photo of the ship as it began its maiden voyage from Milwaukee to Florida on November 6, 2000: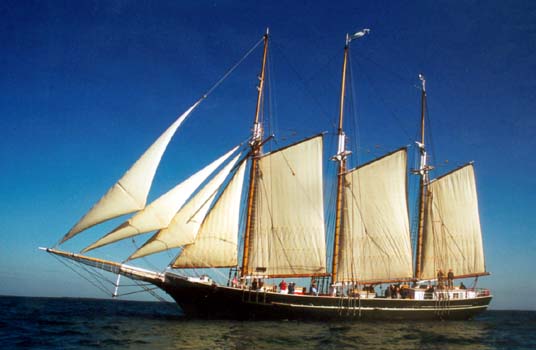 Photo/Will and Cindy Duncan
---
The Center for Global Education:
And I would be remiss if I didn't include my wonderful wife, Regina McGoff , and her organization The Center for Global Education at Augsburg College. For more than 17 years, the Center for Global Education has been providing quality cross-cultural educational opportunities in Latin America, Southern Africa and other sites across the globe.
C.G.E. Study Abroad Programs
The Center conducts five unique semester-long undergraduate study abroad programs located in Mexico, Central America and Southern Africa. Nearly 1,000 students from more than 200 different colleges and universities in North America have participated. These programs enjoy nation-wide recognition as first-class study abroad experiences that integrate solid academic work with real-life experiences.
C.G.E. Short-term Travel Seminars
The Center takes learning adults around the world on short-term travel seminars, bringing them into encounters with the peoples and situations of Mexico, Central America, the Caribbean, and Southern Africa. These one-to three-week educational trips bring North Americans face to face with people of other cultures - people struggling for justice and human dignity. Since 1982, C.G.E. has coordinated nearly 500 seminars for more than 6,500 participants.
---
My work related stuff:
Here's one of my standard web hosting talks in PowerPoint 97 format. You may use any or all parts of this presentation, I only ask for an attribution credit that contains the title page information.

I've been looking around for an inexpensive (under $20/mo) web hosting vendor for a non-profit I am going to design a site for. I found a very helpful guide , it really is buyer beware at this price point.
---
Art:
This piece is in our home. We get more comments on this piece than any other. Click on the piece to visit the artist's web site, there are many different types of lamps to choose from, all handmade and priced accordingly. If you make a purchase, please let the artist know where you heard of him.
Updated on September 10, 2003 kevin@gartland.com